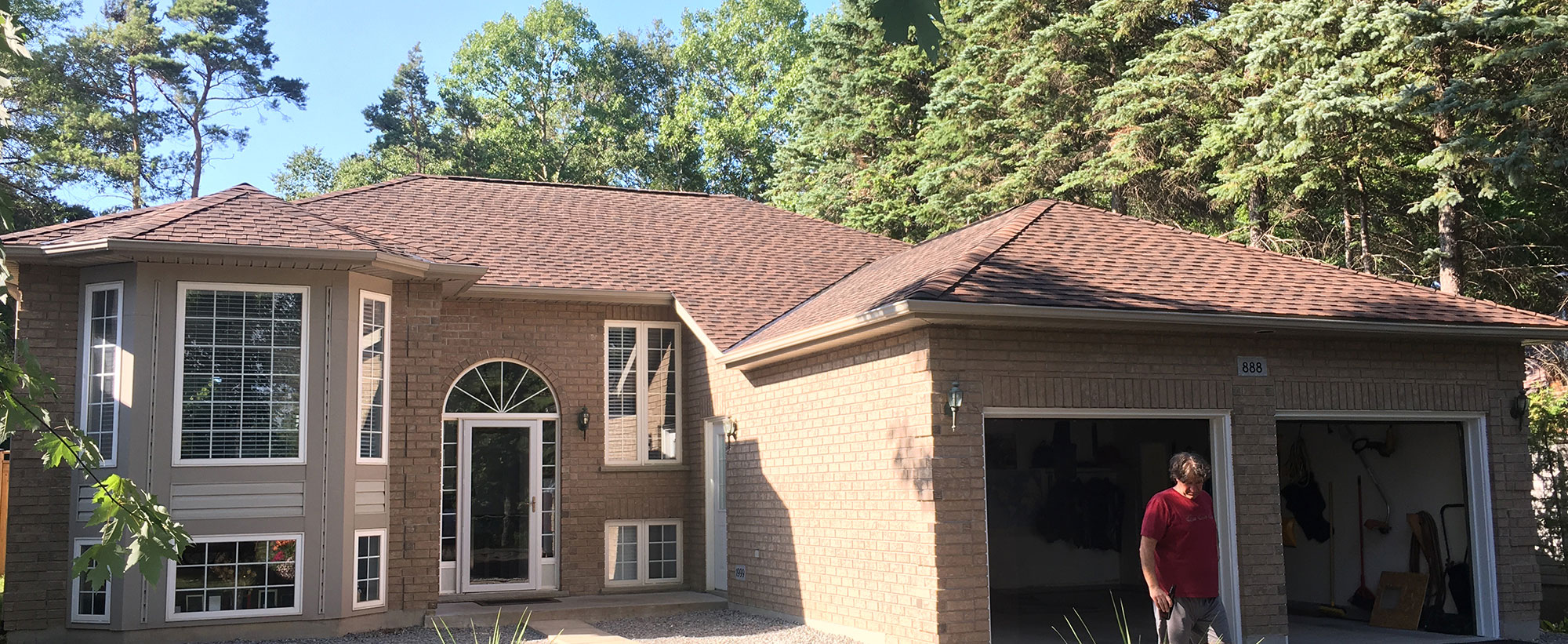 Amazing Team!
Camille from Newmarket
Amazing service! The crew are professional, courteous and driven by detail. I had my soffits , fascia and eavestroughs done. They had a bit of a rain delay but managed to finish in a timely manner. A few sandwiches and snacks went a long way. They were grateful for any gesture. I am having the team back next year to install a new roof. My metal now looks so good I need the shingles done to complete the look. Thank you Elian, Jennifer and the entire crew for making this installation easy. Great people! I highly recommend.
Whole New Roof
Roofing review in Aurora
Elian, Jenny, and their crew did an amazing job with our new roof. Unfortunately, we had some problems identified when removing our old shingles and surprisingly needed to replace the plywood as well, but the team reacted quickly, provided some options, and were able to complete all the work in a timely manner (within a day and a half). They also provided some great suggestions regarding how to fix a poorly insulated skylight. We would definitely recommend Vargas to friends and family.
Thanks again!
Roofing
Roofing review in Whitchurch Stouffville
From start to finish Vargas Family Roofing is clearly a leader in the roofing business. So impressed by their professionalism, amazing service, attention to detail and sheer dedicated hard work. We could not ask for anything better! We are super happy campers! With a new roof and piece of mind. Sincere thanks to all!
New Roof And Eavestroughs
Roofing review in Toronto
I was very pleased with Vargas Family Roofing. They were very knowledgeable and professional. What I liked best was the pride the team had in their work. I would definitely recommend them.
Siding, Eavestroughs, Etc
Gutters & Eavestroughs review in Whitchurch Stouffville
Great work!!! Crew was friendly and courteous. I would definitely recommend Vargas for roofing and exterior!
Professional, Quality & Friendly Team
Whitchurch Stouffville
On time, on budget, kept the site clean, friendly and respectful crew. Can be trusted, highly recommend.
Roof
Roofing review in Whitchurch Stouffville
Elian, the owner along with his crew are the most timely, efficient, friendly and respectful team of workers. Their work is impeccable. They all work well together and stand behind 'delivering quality at its best'. They all take great care to ensure your property is well protected while they work and clean up at the end of each day. I would not hesitate to recommend them! They truly deliver outstanding workmanship! I am beyond pleased!!
Eavestrough, Shutters, Fascia & Soffits
What a transformation!!
At Elian's suggestion, some aesthetic changes were made that updated the look of our house. Professional and on time and budget. We are so very pleased and would highly recommend them. Fantastic job! We were so impressed with Vargas Family Roofing and Exteriors! They were very professional from beginning to end! Efficient, clean, friendly and hardworking staff! Quality of the roof is amazing! We would definitely recommend them to friends and family!
Full roof replacement and siding
Thank you Jennifer and Elian
They replaced my roof, full removed the old shingles and also replaced my siding. They are an amazing company to work with. Jennifer is very knowledgeable and super easy to talk to and make these stressful decisions a lot easier. Elian and the boys are very efficient,
finished the job in reasonable time and left my property spotless, I strongly recommend them and I will call on them for any future renos.
Replace roof shingles
Thanks Jennifer
Thanks Jennifer for your prompt and professional work estimating the cost for the job and explaining everything that would take place. Thanks Elian and your crew for replacing two roofs in two days. Everyone was very professional and the roofs look terrific.
New Roof
Thank you to you and your team
We had our roof replaced recently with Vargas Family Roofing and we would highly recommend them. Jennifer & Elian were a pleasure to deal with, were always on time and delivered on everything they promised at a fair price. Thank you to you and your team and I wish you all the best in the future.